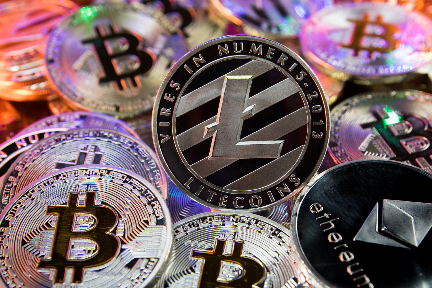 Alternative cryptocurrencies such as Litecoin (LTC), Stellar (XLM), and Chainlink (LINK) steal the spotlight as Bitcoin (BTC) takes a bull breather. The price of Bitcoin (BTC) achieved a new all-time high of $48,912 on Feb. 12 after which it entered into consolidation.
Litecoin traded to highs of $224 on Saturday, its highest level since March 2018. Litecoin's network activity also picked up alongside the 31% price gains seen during the week. Recent glassnode data as of Feb. 11 indicated that the number of active addresses rose to an 8-month high of 231,973. Also, the number of new addresses increased to a 22-month high of 101,862. LTC futures aggregate open interest increased by 285% over the past three months.
Litecoin Number of New Addresses. Courtesy Glasssnode
The uptick in the number of new addresses and futures aggregate open interest may be taken to mean an influx of investors.
Notable performers in the past 24-hours include a 45.34% rally from DASH and a 17.23% move from EOS, Ravencoin is up by 19.84%. IOTA which had been stuck in a bottoming formation for over two years rallied 11.07% in the 24 hours and 128.01% on a seven-day basis. The Altcoin picked up momentum after it broke above the resistance at $0.55.
Why the Altcoin Market May Just Be Starting the New Bull Cycle
The Altcoin versus BTC chart can often provide additional relevant insights. Many Altcoins just started gaining strength in their BTC charts, awakening from a bear market nap. This has translated to many Altcoins showing massive strength in their USD pairs, reaching new all-time highs.
However, the BTC pairs of these Altcoins still have a lot of upside potential. This means that the market may just be starting the new bull cycle. Ethereum for instance is stagnating in its BTC Pairing.
Willy Woo, a popular on-chain analyst, said that historically, Bitcoin is a better "multi-cycle HODL" while ETH is a "better mid-macro" swing trade.

ADA/BTC Daily Chart
Many Altcoins are still struggling in BTC pairings. Cardano, for instance, is 380% below the all-time high in its BTC pair. If Cardano gains ground against Bitcoin, such a run would, of course, push its value in USD even higher.
As regarding Bitcoin's price move, analysts maintain that an asset moving slowly or consolidating after an explosive uptrend may be a sign of a healthy market. Stating that it's important for Bitcoin to regain stability after a strong move to new all-time highs because of an overheated futures market.
Image Credit: Glassnode, Shutterstock