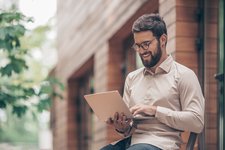 Top perks
Crypto.com has a lot to offer, including its own CRO coin. And the more CRO you're willing to stake (aka deposit with Crypto.com), the better the benefits.
One-stop shop
It's easier to think of Crypto.com as a crypto bank than a cryptocurrency exchange or brokerage. Sure, you can buy and sell cryptocurrencies on the exchange. You can also swap them with other users through your DeFi wallet. But more than that, you can spend your crypto with a prepaid visa card. You can get paid in crypto, put your cash into an interest-earning account, and — in some countries — get a crypto loan.
Low fees
As we'll see below, you can deposit money into your Crypto.com account via an electronic bank transfer or wire transfer without paying any fees. You can also buy and sell cryptocurrencies at true cost, making it one of the better value exchanges on the market.
After your first 30 days, Crypto.com charges a fee for credit/debit card crypto purchases via its app. If you pay using a credit card, your card issuer may also charge a cash advance fee if you use it to buy cryptocurrency.
Easy to convert your money
Like most the best cryptocurrency exchanges, Crypto.com makes it easy to convert fiat currencies into crypto. It accepts over 20 fiat currencies including USD, GBP, and EUR. And you won't have to pay hefty fees, though depending on your country of residence, you may find you're limited to certain fiat currencies once you register.
Cash back cards
Crypto.com offers five prepaid Visa Cards. They can be used anywhere that accepts Visa, but you'll have to top them up before you can spend money.
As with its other products, the more CRO you stake, the better the benefits. The top-of-the-range Obsidian card earns 8% cash back (more accurately, crypto back) and comes with a host of extra bonuses. However, you'll need to stake 5,000,000 CRO (worth around $750,000 at time of writing) to qualify.
If you don't have oodles of cash, the no-stake Midnight Blue card pays 1% back on all purchases. And for a 5,000 CRO stake (around $750), you'll get 2% back with the Ruby Steel card. There's no annual fee, and you'll get a set amount of free ATM withdrawals and foreign transactions each month, depending on the card.
Earn interest
Crypto.com isn't just a place to buy bitcoin and other cryptocurrencies. Accountholders can also earn high rates of interest. Crypto.com's lowest interest rates are better than the best high-yield savings accounts. The maximum interest you can earn is 14%, but — like the Visa card benefits — you'd have to keep a lot of cash in CRO to qualify.
Your interest rate depends on how long you will leave money, which currency you save, and the amount of CRO you have staked. You can increase your interest rate if you:
Stake more than 50,000 CRO. You get even more if you stake 500,000 CRO, but that may not be feasible for many investors.
Deposit it for a three-month term. Flexible and one-month terms are also available, but three-month terms earn the better rates.
Invest in a stablecoin. Stablecoins are pegged to fiat currencies or commodities. So you could invest in a stablecoin that is pegged to the U.S. dollar. You'll earn more interest, but your coin is unlikely to appreciate in value the same way a normal cryptocurrency might.
However, keeping your savings in crypto is risky. All cryptocurrencies are volatile, and unlike regular savings accounts, you won't get FDIC insurance. If your currency fails, it could wipe out all your savings.
Gift cards and phone top ups
Your Crypto.com Visa Card isn't the only way you can spend your crypto. You'll also earn cash back when you buy gift cards with several popular brands. Current U.S. gift card brands include Airbnb, Barnes & Noble, Macy's, and many more. The amount of cash back depends on how much CRO you have staked and what type of company it is. You can also top up prepaid phones on certain networks.